Music with Reindeer - 2023 Season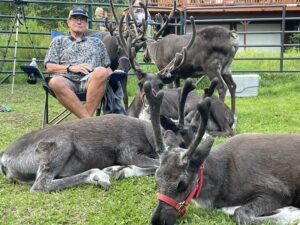 Music with Reindeer series will return in 2023! This is an
enchanting evening under the midnight sun featuring local musicians!
Bring friends, chairs, blankets, food and beverages and enjoy local music with our reindeer. Come though out the summer and see our calves, George, Patricia and Joyce grow! Wednesday evenings, 7-8 pm.
Note – Parking is limited to 15 spaces, when you book online, book for a parking space and one adult, then add any additional people, riders can pay when they arrive. Fill your car with friends. Parking is also available at Ivory Jacks and the Jennifer Drive gravel pit. You are welcome to bike or walk or fly from there and pay when you arrive.